SIZE INFO CHARTS
Below you can find the refference size charts for different brands, please find out your correct size before ordering. If you have any doubt, please contact us before ordering and we will try to help you anyway we can.
---
- MEN SHIRTS -

- MEN TROUSERS -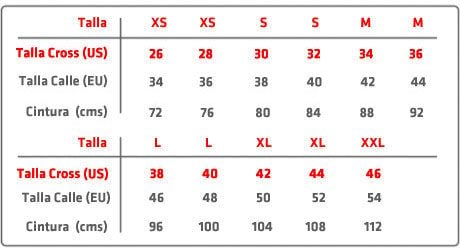 - KIDS CLOTHING (YEARS APROX)-



- WOMEN AND KIDS CLOTHING -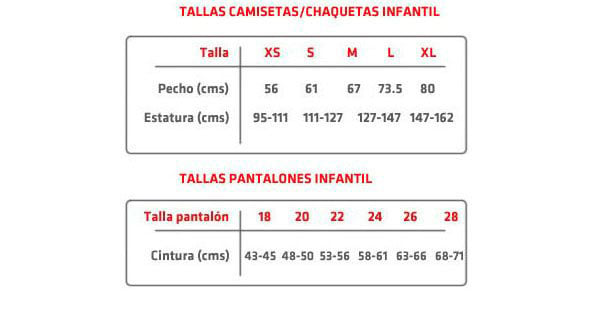 ---
- HELMETS -

- BOOTS -

- GLOVES -

---
CAMBIOS DE TALLA

Motocrosscenter le ofrece la posibilidad de cambiar la talla de la prenda comprada sino le sienta bien.

En caso de que desee cambiar la talla de una prenda, le informamos que los gastos de envío de mandar la prenda de vuelta a Motocrosscenter, corren por cuenta del cliente, sin embargo los gastos del envío de la prenda nueva, correrán a cargo de Motocrosscenter (Solo para envíos dentro de la Península Ibérica y Baleares).

En caso de una segunda equivocación en el tallaje , Motocrosscenter no se hara cargo de ningún gastos de envío.

Los productos a cambiar tendrán que estar en perfecto estado, con el envoltorio original y con todas las etiquetas sujetas.

El plazo para la devolución es de 60 dias.
Para realizar una devolución, siga las instrucciones contenidas en el siguiente enlace:

>>Más información sobre devoluciones<<
Dirección de envío:
Motocrosscenter
Polígono La Estación, Nave 4
44600 - Alcañiz (Teruel)
Tf: 978834236